The Mustang Shelby GT350's 5.2L DOHC engine has a flat-plane crankshaft that gives the car an engine scream that is the envy of sports cars world-wide, and its naturally aspirated 526hp from the factory combines that luscious sound with the bite to back up the bark. The ProCharger HO Intercooled Supercharger System, complete with a P-1SC-1 head unit making 6.5psi of boost, a 1,100hp capable air-to-air intercooler and a ready-to-go tune, adds 175+ HP to that, taking the supercharged GT350 to the 700HP level!
877 HP WITH STAGE II SYSTEM
That's not enough for your power-greedy right foot? Then step to the new and improved Stage II Systems and Tuner Kits to crank out an impressive 877 HP (at the crankshaft!) thanks to more research and development by our Engineering team on the 5.2L Voodoo engine. A slight increase in boost of 9 psi and enhanced tuning give this Pony car the performance it deserves for a late model high performance car.
The ProCharger GT350 Mustang supercharger system comes 100% complete with a robust CNC billet bracket design, 8-rib dedicated drive, SFI-approved aftermarket balancer, handheld programmer, 95lb (1,000cc) injectors, and a highly effective air-to-air intercooler designed specifically for the GT350 capable of 1,100+ HP. The bolt-on installation is easy with standard hand tools and a floor jack, with no permanent modifications, no motor mount changes, no trimming/cutting, and no bending of any factory parts–not to mention OEM-style fit and finish.
BUILD & PRICE BELOW:
Kits starting at $7,748.
Pricing on these units vary by configuration.
Configure your purchase now.
PLEASE NOTE: Pricing on this website reflects the June 30, 2022 Application Price Guide. No surcharges are currently in effect.
BUILD & PRICE
| | | | | | |
| --- | --- | --- | --- | --- | --- |
| HO Intercooled System with P-1SC-1 | 175+ hp | 6 psi | - | 1FW312-SCI Build & Price | - |
| HO Intercooled Tuner Kit with P-1SC-1 | specify | specify | - | 1FW302-SCI Build & Price | - |
| Stage II Intercooled System with P-1SC-1 | 350+ hp | 9 psi | - | 1FW314-SCI Build & Price | - |
| Stage II Intercooled Tuner Kit with P-1SC-1 | specify | specify | - | 1FW304-SCI Build & Price | - |
Tuner Kits: These kits make sense for someone wanting to perform custom tuning of the car and push the envelope in performance. Will most likely be experimenting with alternative fuels such as 93 octane, race fuel, E85 fuel, and methanol supplemental fuel. In addition, possibly changing engine components like heads, headers, exhaust, and cams for the engine. No tuning or fuel components provided.
Want to learn about HO vs. Stage II, Tuner Kits vs. Systems, Intercooling tech and much more? Click the button below to visit the ProCharger 101 page.
HO INTERCOOLED SYSTEM
P-1SC-1 ProCharger self-contained supercharger
Large front mounted air-to-air intercooler
6-rib shared drive system
95lb Fuel Injectors included with system
nGauge tuning device included with system
OEM quality bolt-on design, Fits under stock hood
Belts can be changed without removing supercharger
Pulleys can be changed without removing supercharger
100% reversible, No cutting, or trimming
Self contained oiling head unit, with CNC billet gear case and impeller
STAGE II INTERCOOLED SYSTEM
Same as HO intercooled system with additions
8-rib dedicated supercharger drive system
SFI Balancer included with system
Increased boost and horsepower
OPTIONAL UPGRADES INCLUDE
Polished, Black or Satin Supercharger finish
Polished, Black or Satin Bracket finish
Black intercooler finish
Helical Gear set for Noise Reduction (P & D series only)
P-1X up to F-1A-94 head units available
Race Bypass Valve upgrade (for cars over 750HP, or those that want a loud bypass)
P-1X / D-1X Upgrade
The ProCharger P-1X and D-1X head units feature the robust, self-contained gearcase that is standard on most ProCharger models, but with a new aerodynamic compressor design that creates cooler charge air temperatures and more horsepower at the same boost level than our industry-standard P-1SC-1 and D-1SC. This higher efficiency design was engineered to be a bolt-in replacement for P-1SC-1 and D-1SC equipped systems and has even greater max-power potential.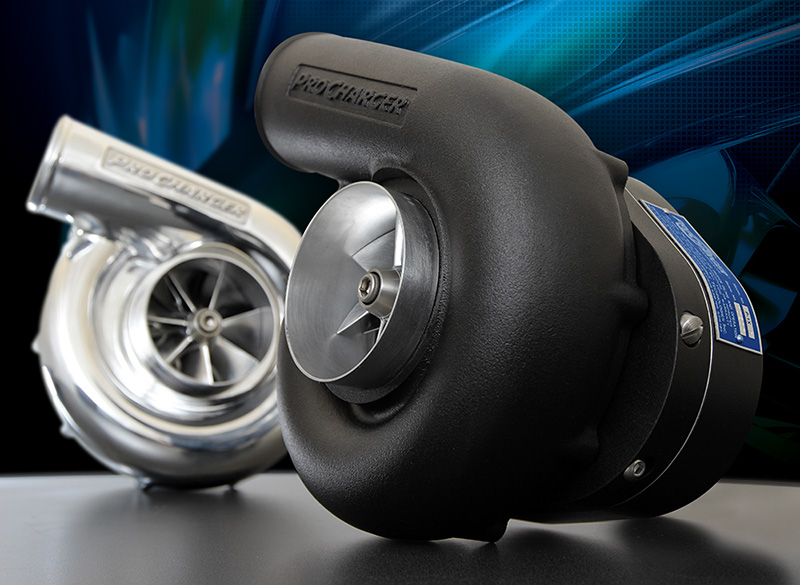 PARTS DESIGNED TO TAKE THE PUNISHMENT:
From the silky-smooth power delivery perfect for road course racing, auto-x'ing, and track day events…we have designed this system to take the abuse day after day. With OEM level fit and finish, our system is designed to seamlessly integrate into your engine bay.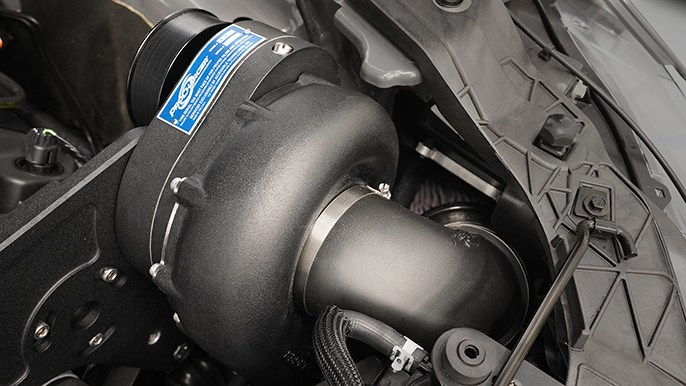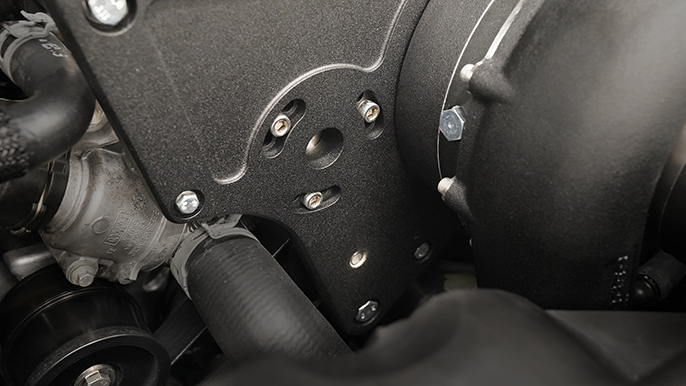 The engineers added a new tensioner design to the mix, that not only allows for quick and easy belt changes…but also a long range of travel for these ultra-high revving engines.
Our new ultra-high flow inlet design is perfect for those looking to make large power numbers up 1,100hp. Yes, it's a little overkill, but that's ok.
The best part about these systems is that you can install them in your garage with common hand tools, or reach out to one of our amazing dealers to have it installed for you.
CUSTOMER HIGHLIGHT
How about Mitchell Pope and his 1,450hp GT350? A built engine, camshaft swap, and loads of airflow from an F-1A-94 ProCharger are some of the key ingredients to Mitchells VooDoo's dyno crushing power numbers. We can't wait to see what Mitchell has in store for this car in the future. OK, now back to chatting about our turn-key systems.
ProCharger GT350 System
F-1A-94 Head Unit
Built Engine / Fuel System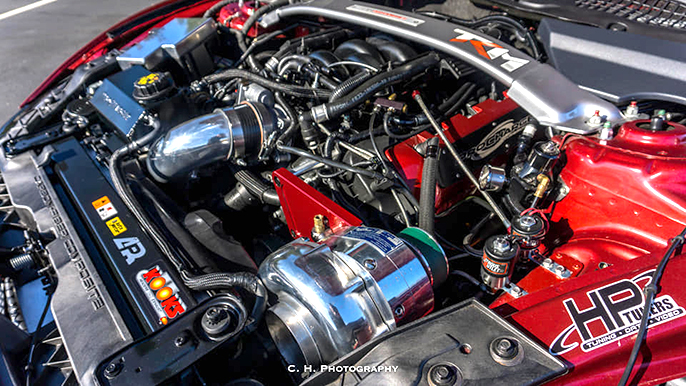 SPEAK TO AN EXPERT
Click to call our sales staff or email us if you need any help. We will be happy to assist you with any questions you may have.
Mon – Fri 8am – 5:30pm MST
Phone – (720) 432-0269
Sales Email – sales@speedmafia.com
CONTACT US
Get a Catalog
Our catalogs feature much of this detail. You can either download a copy or have one mailed to you free of charge.
Free Catalog
CALIFORNIA EMISSIONS COMPLIANCE INFO (CARB)
California approved products for street legal use (complete systems) will have an associated CARB EO# for compliance. For a full list of California and 50 state street legal systems, click below.
CARB EO LIST